Our mission is to promote, provoke, educate, inspire and empower our team members into all things wellness through health, fitness, nutrition, spirituality and mind.
Sample Team Challenge Post
Marek Hlavenka
Ready. Set. Go!
Do you want your company to walk to the moon and back? Or circumnavigate Africa? With StepSense, the goal is yours to set. Dream big, because the only limits are the ones that you set.
Your employees download StepSense from the App or Play Store, enter your unique challenge code and register for your company challenge. All their steps, flights climbed and calories burned are aggregated and displayed on the leaderboard.
Participate individually, as a team, business unit or per country with real-time leaderboards to keep everyone informed and motivated.
In a nutshell
The ultimate step challenge for you, your team or organisation. Equip your employees with the knowledge, tools and support they need to build new healthy habits.
Employee wellbeing
We support your corporate health and wellness initiatives and objectives. Helping to change culture and assisting ongoing wellbeing of your employees.
Chocolate Peanut Butter Chia Pudding (Keto Friendly)
Paul Lauzon
INGREDIENTS:
2 tbsp chia seeds
½ cup milk (almond or coconut)
1 tbsp heavy cream
1 tbsp Keto approved sweetener (erythritol or monk fruit)
1/2 tsp cocoa powder
1 tbsp peanut butter
DIRECTIONS:
Combine everything in an airtight container. Shake well to mix and refrigerate for at least 4 hours to thicken. Lasts for 4 days in the fridge.
Nutrition per serving:
132 Calories
2g Net Carbs
12g Fiber
14g Total Carbs
4g Protein
8g Fat
Broccoli Cheddar Soup (Keto Friendly)
Paul Lauzon
Ingredients
1 head of broccoli or 8 oz frozen broccoli
3 cups water
1/4 cup shredded cheddar cheese
4 tablespoons cream
Salt & Pepper to taste
Instructions
Boil the broccoli in 3 cups salted water until tender.
Add the broccoli into food processor or blender and slowly add 2 cups of the cooking water back in. Blend until smooth.
Pour the mixture back into your pot on low heat. Add in the cheese & cream. Mix till all the cheese is melted.
Serve in a mug with a little cheese on top and fresh pepper. This recipe makes 3 servings
Nutrition Info (Per serving)
Calories: 151
Net Carbs: 5g
Carbs: 7g
Fat: 12g
Protein: 7g
Fiber: 2g
Meal Preparation
Marek Hlavenka
What is Meal Planning?
For me, meal planning involves selecting meals to cook and eat in advance of the day that I need them and actively deciding to be prepared with healthful meals. It is a strategy we can all use to feed ourselves more nutrient-dense foods more often. As a naturally organized person I thrive on lists, calendars, and sticky notes, so, I thought, how hard could this be?
I'm not going to lie … it was challenging to get started, but I'm still at it almost ten years later. These days, I meal plan for both myself and my fiancé. And since I'm back in school pursuing m master's in nutrition at Boston University, meal planning often saves the day, especially on busy school weeks.
Benefits of Meal Planning:
Meal planning saves time. By investing a few hours each Sunday, it gives me back those precious hours during the week.It also saves me money.
Healthy eating has an expensive reputation, but cooking at home certainly costs less than eating out all the time!
My fiancé is passionate about sustainability, so one benefit I appreciate more these days than I did when I first started my meal planning journey is how much less food waste we generate simply by planning our meals. I make a list before my grocery run so that I'm only buying items we need. The result: fewer items end up in the garbage.
How I Meal Plan:
I block a period on my calendar each week, usually Friday afternoons, to take a look at what's left in my fridge and to select the next week's recipes.
This first step ensures I'm using everything I buy – good for the planet and the wallet! I review my schedule for the week ahead and pick my shop/prep day (usually Sundays), and then I lay it all out in an excel spreadsheet. If excel isn't exactly your jam, there are so many other ways to get organized, including meal planning apps, online and printed calendars, and Liz even has printables available including her 7-day meal planner and aisle-by-aisle supermarket shopping.
My strategy tends to be ingredient based; I select the carbohydrates, proteins, healthy fats, and veggies that I want to eat. I also choose one big batch recipe.
A sample week might look like this:
As you can see on the spreadsheet above, my "big batch" item this week is turkey chili. (I scheduled it for dinner Tuesday, because I have my Medical Nutrition Therapy class that night, which runs from 5:30-8:15pm.) I know that once class ends, I'll be too hungry and won't want to do any serious cooking, so this way I'm not tempted to order out. On the spreadsheet, I also made note of a Thursday virtual cooking class that I'm attending and left Friday night open for whatever we feel like eating because … well, it's Friday!
Once the schedule is filled out, I make my grocery list so I'm ready for shopping and prepping on Sunday.
Are you a meal planner? What's your best strategy? What do you see as the benefits?
In my next post, I'll walk you through what meal prepping looks like in my house (AKA my apartment) and toss in a few storage, chopping, and pantry tips for good measure!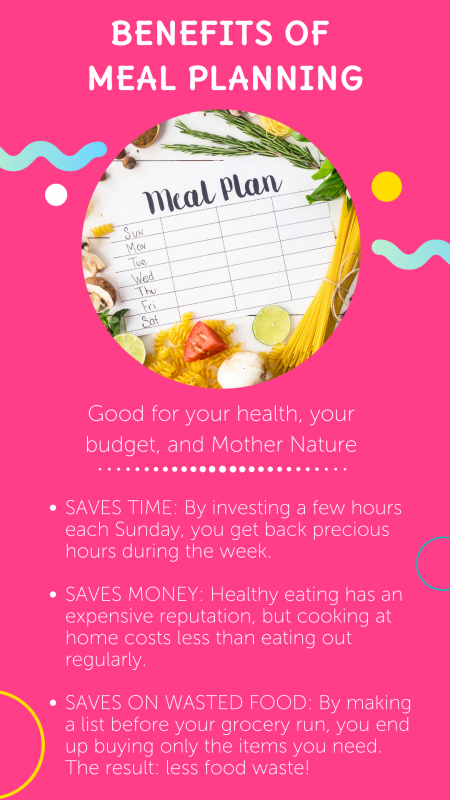 Sample Meditation & Breathing Post
Paul Lauzon
Meditation: Introduction
Many studies have shown the positive impact that meditating has on our health and well-being. Meditation is often advertised as a habit of happy people and is used as a means of coping with stress and anxiety. Meditation is a quiet time you should dedicate to yourself every day. Use deep inhales and exhales to refocus your attention on being in the moment. Stay tuned for tips & techniques as we explore meditation together.
Sample Meditation & Breathing Post
Marek Hlavenka
Simply observing the breath can damp down stress and open a door to a more healthy and mindful lifestyle.
Psychological stress has a devastating effect on health. Research shows that people with heart disease do worse over time if they don't control stress, and stress seems to be associated with a higher risk for cancer. Stress is strongly associated with poorer memory and more aches and pains. However, reducing stress helps you sleep more restfully and control high blood pressure.
One of the easiest ways to reduce stress is to simply focus your attention on your breath. It's a form of "entry level" meditation that anyone can do. You'll notice an immediate sense of relaxation that could help protect your health over time.
If you enjoy it, breath meditation can be a gateway to a broader practice of "mindfulness," in which you learn to accept and appreciate what comes in life and stop fighting your own thoughts and feelings. "Many people take up mindfulness practices thinking they'd like to relax more, but where it leads is a very different approach to life and its inevitable challenges," says Dr. Ronald D. Siegel, assistant clinical professor of psychology at Harvard Medical School.
December 8th, 2023
Derek Bancroft
Blood clots are an important function of your body that help control bleeding.  It is due to our clotting blood that we do not bleed out when we get a cut or have surgery.  Blood clots are made of platelets and fibrin.  Platelets are small colourless fragments of cells. Your bone marrow makes platelets.  Fibrin is a blood protein. Fibrin and platelets work together to seal off injured areas of your blood vessels.   Damaged blood vessels first line of defence are fibrin and platelets.
Unfortunately, blood clots can develop due to other reasons and can cause serious medical issues such as vein thrombosis, pulmonary embolism, and heart attacks.  Blood clots can develop due to being immobile for a long period or some medical conditions such as bleeding or blood clotting disorders.  Other factors such as being over 65 years of age, pregnant, obese, having cancer, taking birth control pills or hormones treatments, smoking, or lack of mobility can all contribute to blood clots forming.
Blood clots can be formed anywhere in your body.  Blood clots in your veins happen most frequently in your arms and legs.  This is deep vein thrombosis (DVT).  Blood clots that form in the arteries can appear in the lungs and is a pulmonary embolism.  Blood clots that block the flow of blood to your brain can cause a stroke, whereas blood clots in the heart may cause a heart attack.
The symptoms of a blood clot in your veins include swelling, pain, and a change in colour of your skin indicating possibly DVT.  Chest pain or shortness of breath can be symptoms of blood clots in your heart or lungs.
There are things you can do to help lower the risk of blood clots.  Getting an annual physical exam and participating in regular cancer screening is key.  As well as, being at a healthy weight, not smoking, staying hydrated, and staying active.  If you are using birth control, try using a non-estrogen alternative to birth control instead.
https://my.clevelandclinic.org/health/body/17675-blood-clots
Stretching
Paul Lauzon
Stretching improves flexibility
If you want a flexible body, then stretching is the way to go. It will enhance your bodies all round
improvement and it is always recommended that some stretching exercises be included in any workout
regime.
Stretching improves circulation
Stretching exercises improve the flow of blood around your body. Improving your circulation means that
more blood and oxygen are reaching your muscles and your brain. This can help avoid injuries in a
workout and it's also why it feels so good when we stretch first thing in the morning.
If you feel pain then you've gone too far
When you stretch, you should feel the strain, but not feel pain. Some soreness after stretching is normal
but, if you are feeling any real pain, then you are stretching too hard.
Stretching before a workout will not stop muscle soreness
Stretching before you exercise will help to warm you up, make you more flexible and improve your
balance, but it won't actually stop your muscles from feeling sore after a workout. Studies have shown
that no amount stretching reduces muscle soreness, that's just something that we have to live with!
Keep stretching balanced
When you stretch, remember to stretch both sides of your body, to keep things balanced. If you stretch
your left arm, then stretch your right arm as well, and so on. Also, remember to stretch the muscles that
will be used in a workout. For example, if you are preparing for a run, then do a few squats or lunges.
Too much stretching can decrease your performance
The best type of stretching to do before a workout is called dynamic stretching. These are stretches that
include movement in them, like squats, lunges and burpees. Too much static stretching has been shown
to actually decrease physical performance.
You need to warm up before you stretch
Some people think that stretching is a way of warming up, but this is completely wrong. Stretching cold
muscles can cause tears in the muscles. You should have a gentle warm up, before you do any stretching
exercises at all.
Add stretching to your everyday routine
Stretching is not only useful in the gym, it can be useful to stretch through the day. Many people spend a
lot of time sitting down during the day, and standing up to do a few stretches every hour or so, will help
keep your blood circulating properly and loosen up the muscles.